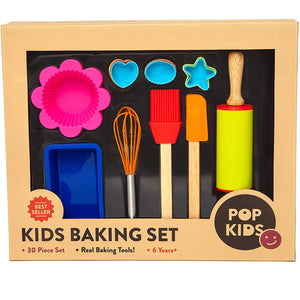 Pop Kids Premium 30-Piece Baking Set
Sale price Price $29.94 Regular price
Pop Kids Premium 30-Piece Baking Set will take time spent in the kitchen to a whole new level! We saw a need for our own kids to have real Kitchen-grade tools they could use to bake alongside us. Designed to encourage and empower your kids to learn the basics of cooking and baking. These are not toys, they are real kitchen tools for use with kids ages 6 and up under the supervision an adult. 
This set is made of smooth, finished food-grade silicone and natural wood and is safe for regular use. ...and yes parents, everything we make at Pop Kids is BPA Free. We thought through the tools we use the most and created a kit that includes:
Large Non-Stick Metal Baking Pan
Silicone Rolling Pin
Spatula
Silicone Whisk
Baking Brush
6 Flower Shaped Cupcake Trays
Mini Cake Tray
12 Chocolate or Mini Muffin Moulds
6 Pop Kids Recipe Cards
Free E-Cookbook with purchase! ($15 Value).
With every purchase of a Pop Kids Product we donate 5% of the profit to No Kid Hungry, a charity that helps feed hungry kids and teaches them to shop and cook healthy meals. Learn more at https://www.nokidhungry.org/
Of course we back all of our Pop Kids products with a Full Lifetime Guarantee. If you are not entirely satisfied with our product, please reach out to us directly and we will take care of you. Feel Free to email directly at Sales@popkids.co and we will get back to you soon.
And thanks as always for supporting the vision of empowering kids everywhere to cook and bake!