Thanks to you, our first product is a big success!
We love baking as much as you do. And we have kids. So we created this 19 Piece Baking Set as the first product in a line of quality cooking tools for kids. Because there is no better time than now to teach your kids the joys of cooking!
Read what others are saying below:
This is a well thought out product, even the packaging was well designed. All the right tools, which were surpringly strong and quality. This product does both-looks nice and works! And 5% of the proceeds is donated to charity, this is a gift I can feel good about purchasing.
Very nice quality. Well packaged. Would make a great gift!
Fantastic bake set! All of the tools are very similar to the adult version, only smaller sized for little hands. Which is fantastic if you like Montessori-methods or just dislike a lot of plastic in your home.
Excellent choice! My neice way super excited to have her very own baking set. It was a teachable moment, learning the names of the utensils and how to use them. Right away she wanted to use the candy molds, then a pie after that. Lots of fun to come!
5% to No Kid Hungry
5% of all profits of Pop Kids products are going to feed hungry kids through the No Kid Hungry program.
Professional quality tools that are bright and fun to use.
Built for little hands, but without the sharp edges.
Purchase Your Baking Set Today: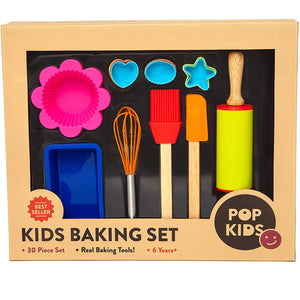 Pop Kids Premium 30-Piece Baking Set
Sale price Price $29.94 Regular price